Over at Africa Eats we typically tout growth based on aggregate revenues. Growing from under $1 million to over $16.8 million in seven years is worthy of touting (see below). But this week I started looking at it another way, and that is even more interesting.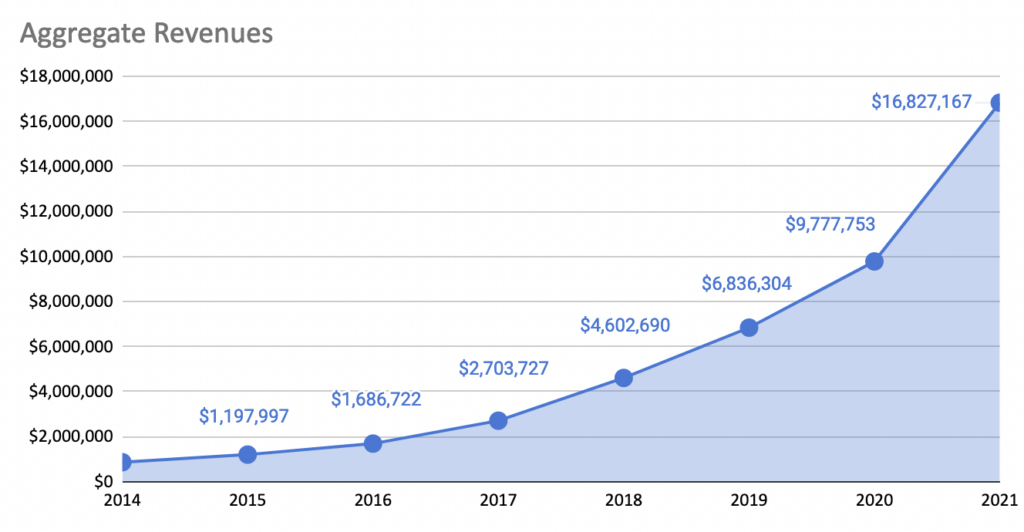 This week the question came up… how many of the companies are small, medium, and large, and how has that changed over the past few years? Given the cohort of companies in Africa Eats, we defined small as more than $250,000; medium as more than $500,000, and large as over $1 million (all as measured in U.S. dollars).
The data is simply the annual revenues for each company, sorted by size, with the graph below showing the number of companies at each of those scales, with the big brown background being tiny companies earning less than $250,000, with most earning under $100,000.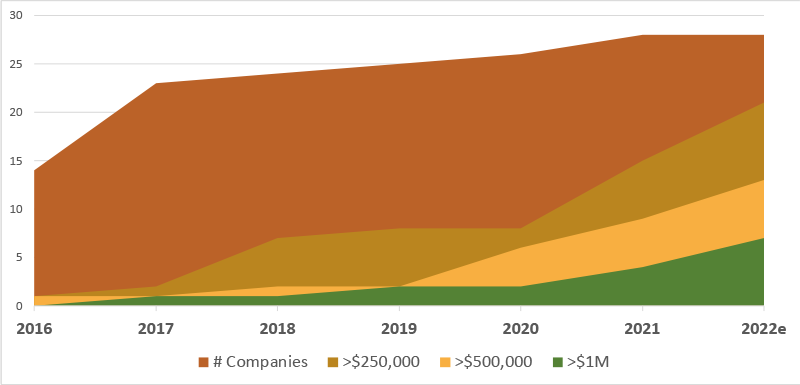 Only 14 of these companies existed in 2014, but they all started out tiny or small and thus the growth seen is based on revenue growth, not because we added bigger companies to the portfolio.
What is interesting (and impressive) is seeing how half of these tiny companies four or five years ago are small, medium, or large, with the graph clearly demonstrating how quickly these companies are growing upward in scale.
My takeaway from this analysis is that all the talk about funding the "missing middle" needs to turn into action, as this proves it possible to fund tiny companies and have them grow to be significant in scale.
What I'm personally next looking forward to is not just doing more of that through Africa Eats and my other funds, but coming back to this post in 2024 to show how many of these companies are then past $10 million in revenues.
We are likely to see the first of these companies reach that milestone this year. Even more exciting than that big number is the fact that I met that company back in 2014, back when they had just finished their first year of operations. Revenues in 2013 were $100,000 USD. Which means if they do surpass $10 million in 2022, they'll have proven it possible to grow 100x in less than 10 years. In Africa. With physical products, not software services.
More on that when it happens. Meanwhile, if you questioned whether it possible to invest in Africa, to make money investing in Africa, and to make a difference investing in Africa, hopefully this analysis made all those questions moot. Yes, yes, and yes.
Contact me if you'd like to do the same.