The Next Step is a series of books, podcasts, and online classes for entrepreneurs, investors, and anyone trying to make their community more entrepreneurial.

for Entrepreneurs
Nine out of every ten startups will fail. Want to avoid their mistakes and become part of the 10% that succeed? The Next Step is the first series to take entrepreneurs step-by-step through the process from raw idea to operational startup.
Each step includes a set of key questions and practices designed to help you build a business plan and pitches for potential investors and customers. Six books that cover: business planning, planning your marketing and sales efforts, creating a financial model, crafting a great pitch, raising capital, and splitting the pie with your team.
Whether you're a seasoned professional looking to make a change, a new college graduate with a big idea, or a small business owner in need of more structure, this must-read series from 25-year, serial entrepreneur Luni Libes, will help you turn your idea into reality.
The books are also available in hardcover, paperback, and Kindle via Amazon.com

Podcast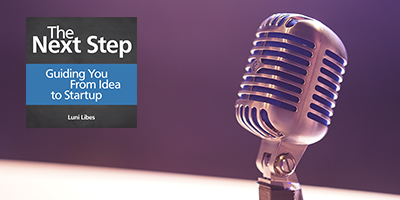 Online Classroom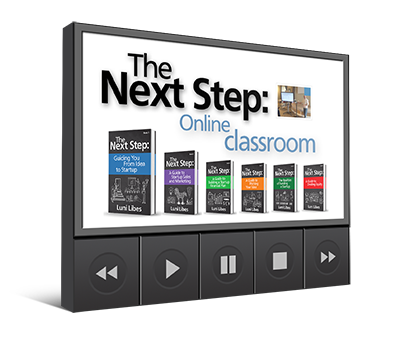 Accelerator & Entrepreneurship Training Programs
Fledge, the conscious company accelerator
Spring, the global startup school

for Investors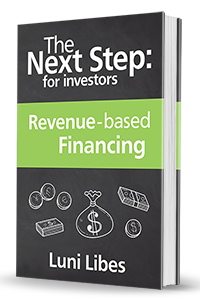 It seems crazy and presumptuous to say that the multi-hundred billion dollar startup investing industry does business all wrong, but it is nonetheless true. Not that the idea of investing is startups is crazy, as history has clearly shown there is value in that effort for both entrepreneurs and investors. Rather, it is crazy in the manner of the emperor parading around town wearing an invisible suit, with his nobles and all the press touting how wonderful and splendid his clothing.
If you are an Angel investor or operating a small venture capital fund, you are likely blindly following the models set by the emperors. Meanwhile, you don't notice that it is you and not them who are naked. The Next Step for Investors: Revenue-based investing explains an alternative style of investing, one that doesn't need the exceedingly rare 10x return to make money for investors, introducing a set of structures for investing in revenues rather than exits. Structures that span debt, equity, and forms in-between. Structures that benefit both entrepreneurs and investors alike. Structures that don't follow the historic norms, but which work for entrepreneurs and investors alike.


for Communities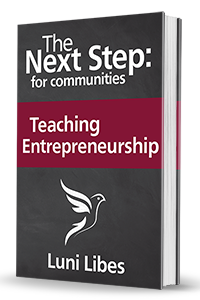 Yes, entrepreneurs are a special bunch, but yes it is in fact possible to teach entrepreneurship. There are a multitude of ways to do this, some which solve the problem at hand, and some that provide long-lasting value to entrepreneurs, greatly increasing their odds of success.
If you interested in building an entrepreneurial ecosystem, or simply interested in helping entrepreneurs succeed, this book is for you. It summarizes years of experience helping entrepreneurs in various ways, from workshops and classes to business plan competitions and business accelerators.
The Next Step for Communities: Teaching Entrepreneurship is the first of The Next Step books written for people helping entrepreneurs, rather than the entrepreneurs themselves or the investors funding those entrepreneurs.
Teaching entrepreneurship requires not just a program to gather together entrepreneurs, mentors, and funders, but also a set of lessons to teach.
The Next Step series was written for that purpose, guiding entrepreneurs from idea through operational startup.