I'm ready for the pandemic to be over… just like you are… just like we all are. I survived this disease fifteen months ago. I'm ready to get back to normal life.
So clearly is everyone else, but if there is one lesson to learn from this pandemic, it is that very few people understand when the right timing is for removing lockdowns, taking off masks, and calling the pandemic truly over.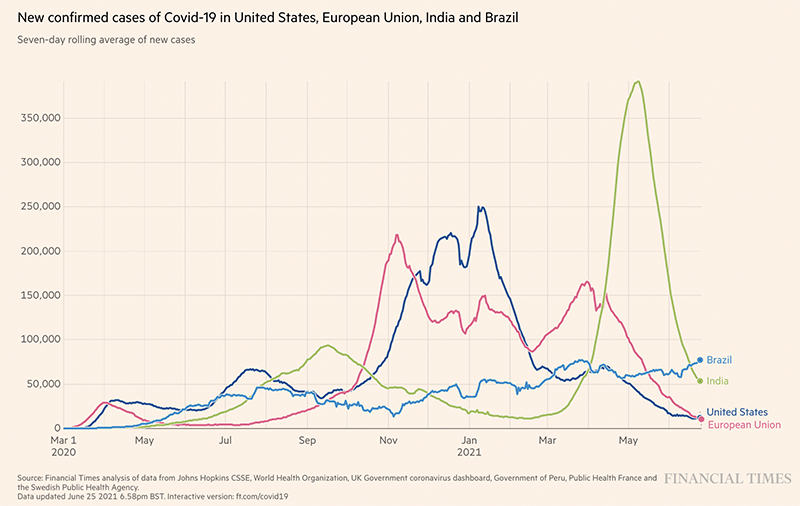 Yes, new daily cases are down. Down from peaks unimagined back in March and April 2020 when the lockdowns began. But not back down to the levels when those lockdowns were implemented. If the goal is to get back to normal, the strategy should be to keep the lockdowns until the cases go below the troughs. Instead, the powers that be keep opening up when we reach a new peak.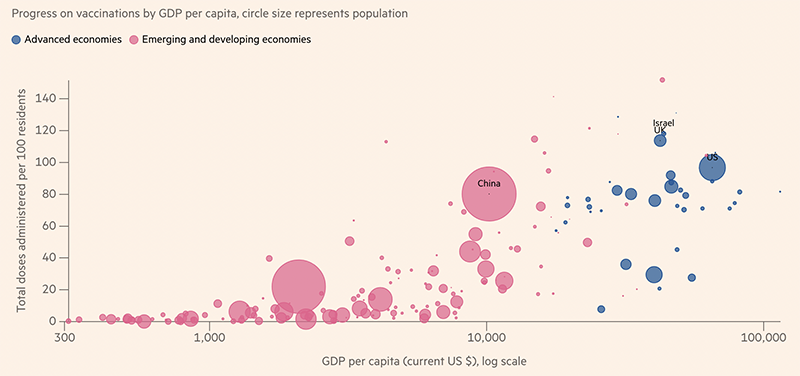 And yes, this time it's different as this time we have vaccines. But not yet in every country and with far too many vaccine deniers to end the pandemic. We know from other diseases and from over a year experience with this disease that outbreaks will continue unless at least 75% of the whole population is vaccinated. The leading countries are nearing that for adults, but there is no vaccine available for anyone under 12, and there is no evidence that children don't spread this disease.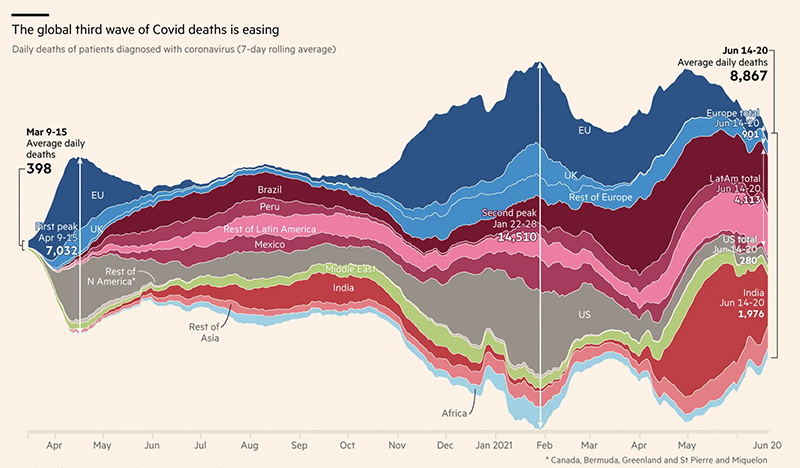 A disease isn't a pandemic unless it spreads across continents. This pandemic doesn't end until it ends globally. Yes, total cases globally are down, but looking at the pretty graph above and you'll see that cases today are still higher than the April/May 2020 peak.
Best case for the remainder of 2021 is that the vaccines keep the total global caseload slowly dropping toward zero. Best case is no new variants deadlier than we've seen before. Best case is that by December 31st, odds of dying while vaccinated in the U.S., Europe, China, Japan, and the other "developed" countries are lower than dying of influenza. Best case is that the vaccine booster means it is safe to travel in the rest of the world, where the pandemic will continue to slowly burn through the population.
Worst case is that the vaccines don't work well against the next variant, and we need another 10 billion doses to prevent a second year of lockdowns.
Likely case is that you just got your Covid-21 vaccine this year, you'll get your Covid-22 vaccine booster next year, and an annual Covid vaccine throughout the 2020s as this disease becomes endemic, just like influenza after the 1918 pandemic.
What you can do to help us get on the best path is to argue, yell, and shame your vaccine intolerant friends and family to get vaccinated, for all of us to ignore the CDC and keep wearing masks indoors, and to not gather in large groups until this pandemic is truly over.