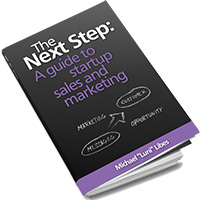 One of of The Next Step guides, this book provides a set of marketing tools which will let you clearly explain your ideas to your customers, and help you prepare and plan on selling to those customers.
Creating a brand from scratch is not easy to do.  Explaining the benefits of your product is often not easy.  This book begins by finding the "essence" of your brand, and from there builds out a marketing plan to share that story with the world.
The book then moves on to sales, explaining sales funnels, sales channels, techniques for organizing a sales team, and prepares you for the important task of supporting and delighting your customers after the sale.
Coming in 2014