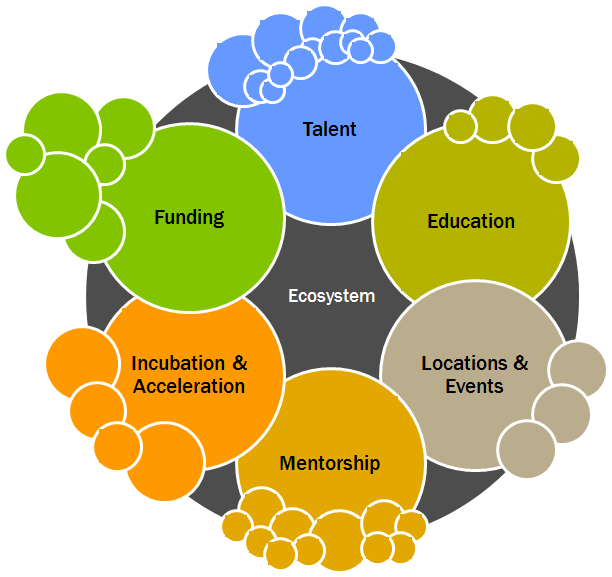 The U.S. State Department sends delegations to visit Fledge every month or two.  We've had visitors from: Norway, Albania, Poland, Romania, and Switzerland; Oman, Dubai, Saudi Arabia and Jordon; Mexico, Brazil, and Columbia; Bangladesh and Pakistan, and more.  The delegates that visit are typically either social entrepreneurs or working for (typically government sponsored) organizations that help entrepreneurs.
They all wanted to know in general how to replicate the entrepreneurial energy of Seattle back home, and specifically, how to create a successful startup accelerator.
For the big question, I gave the honest answer, that no one truly knows.  I tell the that Brad Feld's book might help.  I've read many articles that similarly claim to explain how ecosystems come to be.  What I'm certain of is that no one truly knows how it works.
I moved to Seattle in 1992.  Back then, there was no ecosystem.  There were a handful of venture capital offices, mostly offshoot offices from Silicon Valley.  There were some fellow entrepreneurs.  There were even some nonprofit organizations working to put the two together  But compared to 2015, there was nothing.  Less than you'd find today in Oslo or Zurich or Dubai or Bogota.
What's interesting to me is that while all these delegates are dreaming of building their own local entrepreneurial ecosystem, I and my peers are busy trying to build an ecosystem for what I call conscious companies.  Mission-driven for-profit companies.  Companies that do good by doing business.
Building this ecosystem is a challenge, as there are not enough entrepreneurs and funders in Seattle (or any other one city) to replicate the "tech" ecosystems in San Francsico, Seattle, Boulder, etc.  We're thus in the process of building a global ecosystem.  Toniic and Investors Circle organize investors globally, not locally.  The Impact Hub network stretches across six dozen cities.  SOCAP brings in thousands of people each year to share success (and failure) stories.  Pinchot University trains entrepreneurs from across the US and Canada.  Etc. etc. etc.
Building a thriving ecosystem takes dozens of people working for a decade or more.  There are no silver bullets.  No shortcuts.  It's yet-another process that reminds me of blowing up a dam.