I read the news every day. It's an age-old habit that goes back to the days before the internet, before 24/7 cable news, back when news was at least a day old, if not a week old or a month old and delivered as ink on paper.
In today's 24/7/365 world where hour-old news can be old news it is often difficult to remember what happened a week ago, or from a tidbit in a story today, from three weeks ago.
Three weeks ago, February 17th, Time.com, France Has Reported the First COVID-19 Death Outside Asia
Three weeks ago, Italy had 3 confirmed cases of Covid-19. Two days ago, Italy shut down the country.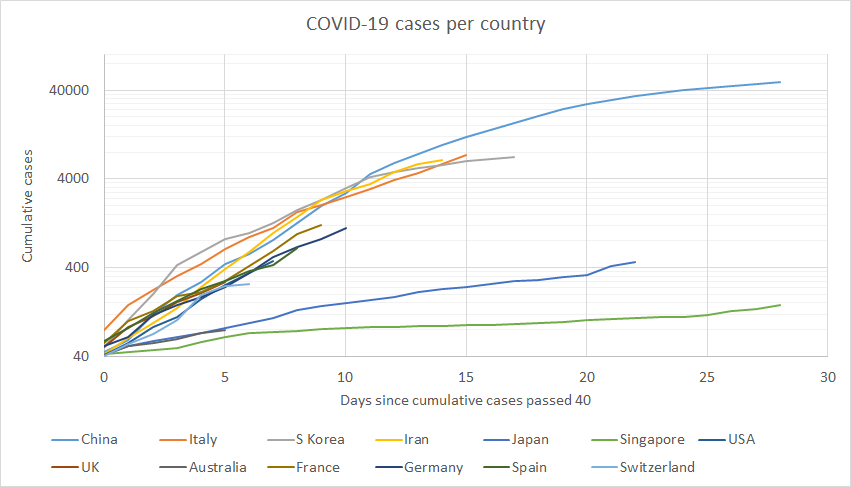 The above chart is the first cohort analysis I've seen of the pandemic. It plots the outbreak in each country starting with the first day with 40 known cases. Italy is the dark orange line. 40 to 8,000 cases took 15 days.
As usual in global statistics, the USA is an outlier. 22 days later we're at just 800 cases. Exceptionalism? No. Lack of testing. Utter incompetence by the Federal government and CDC to contain the virus in the USA.
What this chart tells us is that it is highly likely that there are more than 20,000 cases in the USA today. And given insufficient testing and no proactive measures outside of New Rochelle, NY, there is no chance that the USA infection rate will slow down like China's has.
Note this chart is a logarithmic scale. It is showing the rate of infection grows by a factor of every 6 or 7 days. 20,000 cases this week means 200,000 cases next week, 2 million cases in two weeks, and 20 million in three weeks.
More in this series:
Post #1: The 2020 Epidemic: Coronavirus
Post #2: Seattle, we have a (Covid-19) Problem
Post #3: Just Three (Viral) Weeks Ago
Post #4: Isolated in Seattle
Post #5: Impossible Until it Happens
Post #6: What a mild (and moderate) case of Covid-19 feels like
The rest in #Pandemic