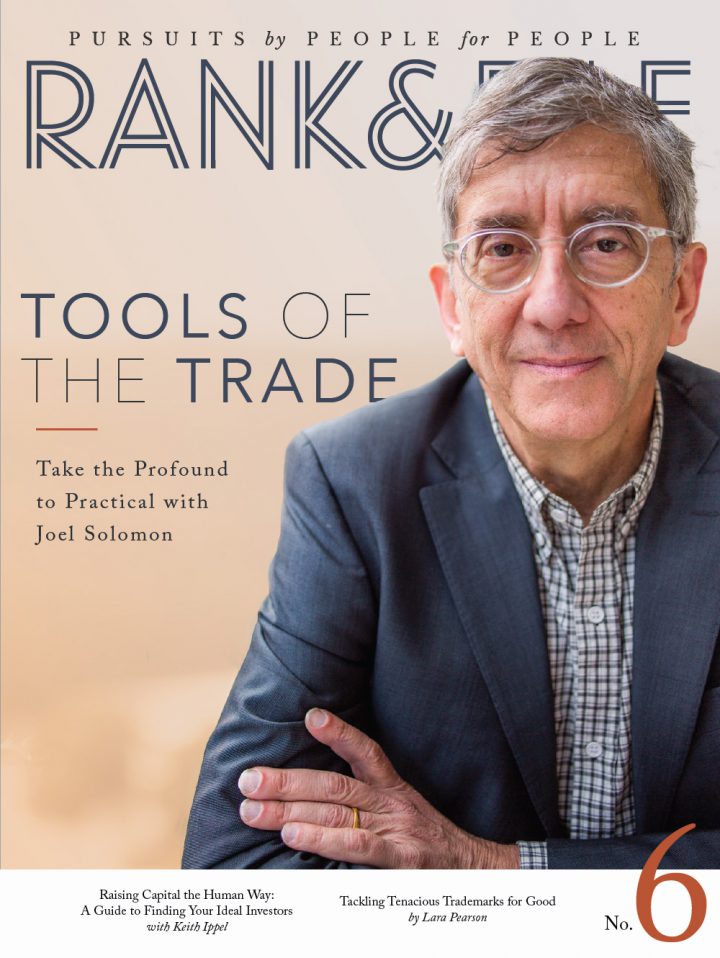 Republished from rankandfilemag.com/first-12-months-as-an-entrepreneur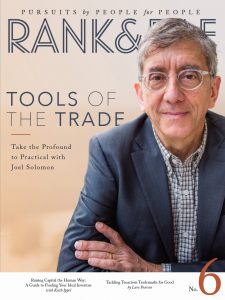 Rank & File turned one-year-old [back in June]. It was quite a milestone for me as a first-time entrepreneur and so I wanted to do a bit of journaling here to document the biggest, most important lessons I have learned during the last 12 months, so I won't ever forget what the beginning felt like and taught me.
Here are the key lessons I learned during the first 12 months of running a purpose-driven business:
#1: Prepare for the Emotional Roller Coaster
Let me start by taking you back to the very start, about 18 months ago. I had just quit my job, sold my car and moved back in with my parents so I could pour everything I could into my business. You could say I was "all in." I was emotionally and physically committed to doing whatever it took to bring my vision into the world. I knew I could do it.
But, I was not prepared for the emotional roller coaster that is entrepreneurship as I hit bumps in the road, and I began to feel like a failure.
Luni Libes of Fledge gave me some great advice in my interview with him around this time. He told me that one of the greatest lessons in entrepreneurship is that plan A never succeeds perfectly and that our initial ideas will not work out in the real world 100% like we think they will.
Luni told me that failure is part of the journey.
Truth be told, I was a little upset at Luni when he gave me this advice back then. I felt like he was being negative about my vision and didn't believe in me.
But, Luni understood the entrepreneurial roller coaster.
I know many people don't like to use the word failure because of its negative tone. But understanding that negative feelings will bubble up inside of us during our startup journey will actually keep us more resilient during the process.
We will go through some high-highs and some low-lows. The key to pressing on is being aware that the lows are just part of it. The little "failures" that we run into as we test our products and services do not actually mean that we as people and business owners are failures. This is only a sign that we are successfully walking the bumpy path of entrepreneurship.Allow yourself to hit these bumps with grace, and to keep pressing on despite them.
Allow yourself to hit these bumps with grace, and to keep pressing on despite them.
#2: Don't Cling Too Tightly to Your Company
One of the reasons that we become discouraged when things are not working out is because we cling to our original ideas too tightly. This keeps us from effectively shifting as needed. We may even quit.
The successful entrepreneurs are the ones that will go from plan A to B, to C, to D and so on.
#3: Don't Let Your Company Suck the Life Out of You
Back in the beginning, I confused hard work with stupid hard work. I actually ran myself into the ground. Through trial and error, I eventually learned that a healthy amount of rest, relaxation and creative outlet actually brought greater results to my business.
Ideas and solutions to problems will naturally come to you when you make space for them to appear. Don't be stupid, make time for rest.
#4: Cut Costs, Then Cut Them Again
Rank & File's first design was a downloadable magazine available through a mobile app that you had to pay for. Not exactly what you see now, huh?
This first setup was not an effective minimal viable product (MVP), and so I had to adjust until I found it. Part of this process was stripping away all of the extra, expensive features that were not needed to test the market.
This also meant testing out the revenue model.
Many entrepreneurs don't actually achieve an MVP because they are attached to what they think their revenue model should be in the beginning. In my case, I thought that putting up a paywall inside of an app was the model I had to choose. With this model, I needed an app provider and a magazine designer. Two expensive things that were not really essential.
The key, I found, to finding an MVP is to put the simplest and most cost-effective version of your product out into the world in order to test how the market reacts. It is only then that you can fully understand how your revenue model will shape up.
#5: Experiment
Even after understanding the true concept of an MVP, I still was often caught by a very common temptation. I thought that all new ideas needed to be developed before I could test them.
I would think of an idea, plot it out in my head, get it down on paper, and then come up with a timeline for development. Wrong.
What we actually need to do is to experiment. By pulling out little pieces of our idea and finding ways to test them before a cent is put into development, we can actually reach our MVP faster.
I am still learning this skill, but can already see the results of when I run little, free tests with Rank & File readers. These have taken the form of impromptu questions on Instagram, free resources in our newsletter, webinars, and pro bono coaching experiences to gather knowledge about the community.
#6: Think Bigger
I recently did some sessions with the coaches at Within People, who helped me grasp the essence of the Rank & File offer. The sessions really helped me to take a step back.
It's so easy to get stuck in the weeds when we work so closely within our companies. But thinking big picture is the only way that we can craft the right offer for our communities based on the values we share with them.
Most of the time, this will take someone who is outside of your company, like a coach, to pull things out of you that are buried in clutter.
#7: Capital Raising is Not for Everyone
Last year, I assumed I would raise capital investment for Rank & File in order to grow. And, I thought it would be a relatively straightforward process. Boy, was I wrong. Thankfully, I was invited to attend a funding boot camp for free alongside other entrepreneurs where I learned the ABC's of raising capital.
What did I learn? I wasn't ready.
Raising capital is a time-intensive process that involves more time than I thought, and more people on my team than I thought, in order to be successful.
If you need investment, seek counsel from someone who has done it before. Don't just jump in. And, don't walk down this path alone.
#8: Work with People With the Right Momentum
Rank & File's inception has involved hundreds of people, from contributors and interviewees to writers, editors, designers and strategic partners.
The majority of these partnerships have worked beautifully, where we both share common values and can benefit equally. A few have not worked out as well and have taught me the importance of transparent communication.
The people who didn't work out didn't share a similar work ethic and servant leadership philosophy as I do. We also found that our motivations didn't match up, making it hard to find a mutually beneficial working relationship.
The more I openly share about my purpose, values and goals in the first few conversations, the more they share theirs with me. This is leading to more open and rewarding relationships as I move forward.
#9: Own Your Story
When I started out, I didn't fully share my personal story with the Rank & File community. I was scared and felt like a magazine's editor-in-chief didn't need to be in the spotlight. But, I realized that sharing my journey actually communicated the heart behind Rank & File to our readers. My story wasn't about me at all. It was about Rank & File. This is what Simon Sinek calls "becoming the cause holder" and it is one of the most powerful things we can do.
Own your story, become the cause holder for your company and build your movement too.
Keep good. Keep giving.
Kari