Speaking of Seattle, living here often feels like being in a forgotten room in a house, or off in a corner of an otherwise busy meeting room.  Seattle is a city that many people have heard of, but it's the 15th largest city in the U.S. and (counting the metropolitan area) around the 50th most populous city in the world.
But in terms of geography, it is literally off in the corner of the world's third largest country, closer to Vancouver, Canada than any American city, with only Portland, Oregon close enough for a day trip by car.  It's 15 hours by car to San Francisco, and 23 hours to Los Angeles, too far for any future high-speed rail.
Like those cities, Seattle is in the Pacific Time Zone, three hours behind New York City in Eastern Time and two hours behind Chicago, the two time zones where two thirds of Americans live.  We're eight hours behind London, nine behind Western Europe, ten behind East Africa, while nine or ten hours ahead of Japan, China, and Singapore.  All this means its rarely work time here when talking to someone not in Seattle, Portland, or California.
This post is sounding like a rant, but the other night I was wondering about whether it just felt like Seattle was off in a corner of whether there was some reality to this feeling.  A bit of googling found an infographic with the answer: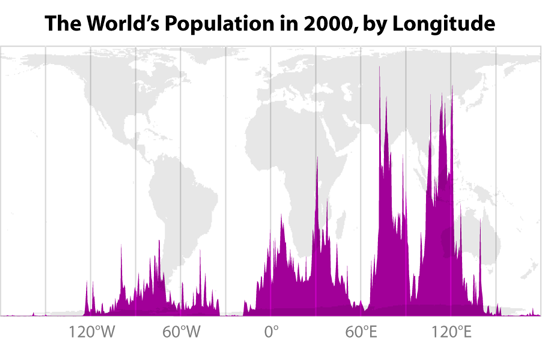 Most of humanity is over in Asia, Europe, and Africa.  In the Americas, there are two tiny spikes around 120°W.  The spike just to the right of that longitude line is Los Angeles.  The spike on the left is San Francisco, Oakland, San Jose, Portland, Vancouver, and Seattle.
Two relatively tiny spikes with a whole lot of emptiness to the West, and 2,000 miles to the next nearest spike of humanity, which on the above map looks tiny compared with the Eastern Hemisphere.