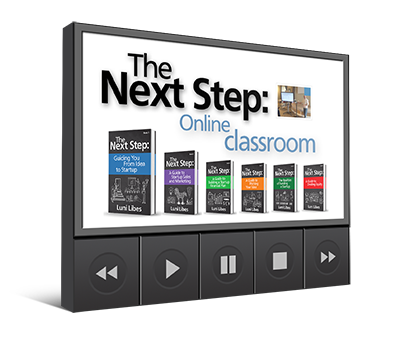 [This post is targeted to the hundreds of colleges and universities who teach Entrepreneurship, along with the thousands of entrepreneurship training programs]
Seventeen years ago, when I first taught Software Entrepreneurship at the University of Washington, 90% of the curriculum was guest speakers.  Good stories, but not enough structure for the students.
Five years ago, when I was asked to teach Entrepreneurship at what is now Presidio Graduate School, I was flabbergasted to find that not only was there no textbook for the class, but neither was there any off-the-shelf book at the Seattle Public Library or Amazon to use as a core curriculum.
As an entrepreneur, I look to fill holes in markets, and as a 25+ year serial entrepreneur, I seem to have the knowledge to fill this specific gap.  The result is The Next Step, a six book series guiding readers step by step from a business idea, through business planning, marketing, sales, financial projections, pitching, fundraising, and splitting equity with the team.
I've used this material to teach my class a dozen times.  I've used it in my business accelerator to teach "real world" entrepreneurs.  I've licensed the content to dozens of organizations worldwide as the core curriculum of business training programs.
Today, I'm offering it to you, to improve the quality of your Entrepreneurship classes, incubators, and training programs at your school.
Available in paperback, Kindle, and online with a matching set of nine hours of flipped classroom video lectures.
Contact me for details.